How do I install PriceSquawk with NinjaTrader?
Simply close NinjaTrader and run the install file you were emailed as you do not import PriceSquawk like you would a standard NinjaTrader indicator. Then when you open NinjaTrader you can add PriceSquawk as an indicator to any chart. This will open up a PriceSquawk window with the default settings (and start your 14 day trial).  We recommend running PriceSquawk on its own chart. You can run up to 15 PriceSquawk windows side by side if you want to listen to multiple instruments.
How do I license PriceSquawk?
You can purchase or lease a license from our pricing page.  You will need to send us your PriceSquawk License Key so we can update your license accordingly. When you first install PriceSquawk you are given a 14 day Lite license to trial so you already have a license unless you want to try out the Professional features. The Professional license incorporate some intelligent methods of representing market data audibly, you can email us your PriceSquawk License Key so we can update your license to a Professional trial.
How do I get the License Key?
1. With a PriceSquawk window open, open the Misc menu and then select 'About'.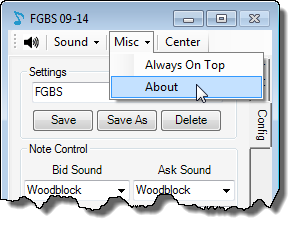 2. The About PriceSquawk window will display all your License information. If you have purchased a license or want to trial the Professional features then click the Copy button and paste it in an email to support@pricesquawk.com.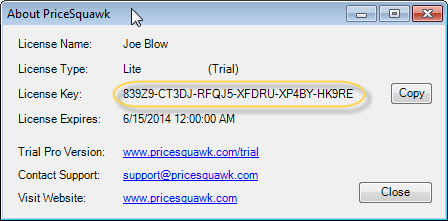 What are the best instruments to listen to?
There is no best sound as it depends on what you like – however some useful combinations are Electric Piano 1 (bid) and Trumpet (ask), or Woodblock (bid) and Agogo (Ask).  Most of the video examples are either using Electric Piano 1 or Woodblocks for trade sounds. Both these instruments give a clear sound differentiation.  Our hearing is best at listening simultaneously to sounds with different timbre (different sound texture). So Electric Piano 1 and Electric Piano 2 is NOT a good combination for extracting information from each audio stream, however Electric Piano 1 and Woodblock is.   There are endless combinations so have some fun with it, or use the above suggestions.  Some other instruments worth of note are Clarinet, Electric Guitar (Jazz),  Synth Drums. You can also change each instrument drastically using the Duration setting. For an electric sound try the Lead, Pad or FX options with Duration set < 10.
Why are there more Alert sound options?
Alerts use their own sound effect, and there are more options to choose from because you can select from a range of percussion instruments, which we cannot vary the pitch like we do with the trade sound effects.
What settings should I use?

Using PriceSquawk for the first time is similar to if you were to open a price chart for the first time.  It is a  flexible tool for conveying market information.  You can set it however you like but we recommend for getting familiar with Audible Markets trying the following  PriceSquawk settings for your market of choice:  Enable Trade Sounds, Alert Sounds and Volume Control from the Sound Menu. Select Electric Piano 1 as the Bid Sound and Trumpet as the Ask Sound in the Config Tab. Set Duration to 10 and Auto Center to 12 if trading E-mini. Enable Stereo Effect. The Minimum, Middle and Max settings can be used to distinguish certain trade sizes. Check  out these blog posts on using PriceSquawk.
Why should I listen to my markets?
To constantly observe the order flow across multiple markets simultaneously without straining your eyes.  To sit back when market conditions don't sound great for opportunities and to tune in when conditions are ideal.  To get in the zone by being immersed in a real-time market environment.  So you don't miss key market order flow events such as block trades, iceberg orders and smackdowns.  To get in the flow with your market in a way not possible from reading numbers on a screen.  To trade in the moment by listening to the present market conditions for making decisions… to increase trading performance and many more reasons.
What is PriceSquawk?
It is an Audible Tape, an Audible Order Flow Meter, an Audible Bid / Ask Strength Meter, an Audible Price Action tool, a convenient Alert Tool.  It is a complete Market Sonification tool that converts core market information into sound, so that you could theoretically trade without screens with some order entry hotkeys… or use as an additional dimension for observing markets in your trading plan.
How is PriceSquawk unique?
No other tool lets you distinguish Price, Volume and Bid / Offer market information using sound.  It is the only Audible Tape, Audible Order Flow, Audible Bid / Ask Strength and Audible Price Action tool in one.  It is the only Market Sonification tool that lets you configure the Sound itself to suit your listening preference.
Can I use PriceSquawk to trade purely using sound?
We think so! For trading purely from Order Flow you have all the information you need via PriceSquawk audio.  We are starting to experiment in simulation mode with pure audible trading and immediately notice the ease of trading without all the information on the screens.. of course there is useful Level 2 data that can only be viewed in the DOM, but with just 100% pure audible order flow and enough experience it should be possible to profit from sound alone.  Get in contact with us   if you want to discuss this exciting prospect.
Can I get another Trial period?
Contact Us with your License details and / or NinjaTrader machine ID and we will do our best to help.
When is PriceSquawk Desktop Available?
We are currently testing PriceSquawk Desktop and should have a beta available for PriceSquawk subscribers in the first quarter of 2014.
What data providers do you support?
If using PriceSquawk within NinjaTrader then we support any tick data feed NinjaTrader connects to such as NinjaTrader Continuum. If you can see live tick charts in NinjaTrader then PriceSquawk will work.  If you do not have a tick data feed then sign up for a CQG trial here.   PriceSquawk desktop will initially support IQ Feed, CQG Client and TT Fix.